SCP-1521
The Most Holy Bank of His Holiness Pope Leo the Tenth, Saint in Waiting
Connected to: SCP-381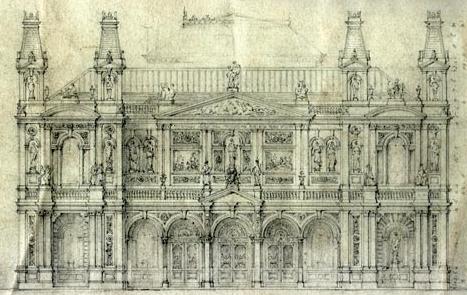 Special Containment Procedures
SCP-1521 is assigned a minimum of two "observers" and three additional support staff working in twenty-four hour shifts. Civilians observed approaching SCP-1521 are to be detained, identified, and processed as possible, future observers. Anyone observed exiting SCP-1521 is to be detained, questioned, and identified if possible. Due to the tedious nature of work with SCP-1521, staff rotation on SCP-1521 is to occur every two months.
Description
SCP-1521 is a building, built in the early Baroque style, located on the ██████ ██ ██████ in Rome, Italy. While the building appears to always be present, it is not directly observable. Subjects pointed in the direction of the building fail to notice its presence.
Approximately █% of tested subjects can observe1 the building. Those that are successful in observing the building have identified a sign2 attached to the front which identifies the structure as "The Most Holy Bank of His Holiness Pope Leo the Tenth, Saint in Waiting."
SCP-1521 plays host to a number of entities which appear human, often dressed in period garb of a Roman Catholic priest or nun. These entities are non-hostile and will attempt to defuse any situation in which they are threatened with physical violence. These entities have never been observed to exit SCP-1521.
Presumably, anyone capable of observing the building is also capable of entry, though only six total expeditions into SCP-1521 have been approved by O5. With the level of current information, no further expeditions are planned.
Please see Addenda for all currently available declassified information about the expeditions.
---
MRI scans later revealed that Observer-1521-11 was still suffering from stomach cancer, though Observer-1521-11 was so influenced by the experience that he refused to believe the diagnosis. Observer-1521-11 died from complications due to his cancer four weeks later.
---
Addendum SCP-1521-3: Exploratory Expedition
SCP-1521 Observer 1521-13 entered the structure as normal. Upon entering, he was immediately approached by a humanoid figure wearing a priests smock and robes, designated SCP-1521 Humanoid Instance 47 (1521-HI47). 1521-HI47 asked Observer 1521-13 if he had any recently deceased relatives. When Observer 1521-13 replied that his uncle had died recently, 1521-HI47 immediately knelt to his knees and began praying loudly in what Observer 1521-13 believed was Latin. Observer 1521-13 was highly disturbed by this event.
After approximately five minutes of loud prayer, 1521-HI47 rose to his feet and declared that Observer-1521-13's uncle was currently in hell and being tortured by demons. Observer 1521-13 was extremely distraught, and 1521-HI47 offered to gather together a group of priests and "pray his soul out of hell" for a small fee. Observer 1521-13 immediately agreed. When asked how much the fee was, 1521-HI47 inquired as to the current funds available, then expressed that this was just the right amount.
Observer 1521-13 was then privy to a group of twelve additional humanoid figures gathering together (tentatively classified SCP-1521 Humanoid Instances 48-59, pending confirmation) in a circle, then asking for the name of Observer 1521-13's uncle, then beginning to pray in loud voices again.
After approximately ten minutes of prayer, 1521-HI47 stepped forward from the circle, declaring that they had successfully prayed everything but his feet out of hell, and an additional 15000 lira was needed to finish. Observer 1521-13 quickly left the building to acquire additional funds from Foundation personnel on the scene.
Observer 1521-13 was denied reentry to SCP-1521.
---